Cat.8 patch cord:
1、The Category 8 cabling standard, ANSI/TIA-568-C.2-1 Addendum 1 approved June of 2016:

The Telecommunications Industry Association (TIA) TR-42 Telecommunications Cabling Systems Engineering Committee has approved the ANSI/TIA-568-C.2-1 specifications for Category 8 cabling systems. The Category 8 standard document was developed by the TR-42.7 Telecommunications Copper Cabling Systems Subcommittee and this is the specifications for 100Ω Category 8 cabling: ANSI/TIA-568-C.2-1 Addendum 1.
2、Two types: Cat 8.1 and Cat 8.2
3、Applications
The Category 8 cabling system was designed primarily to support the IEEE 802.3bq 25/40GBase-T standard. It has two types: Cat.8.1 and Cat.8.2. The Cat.8.1 has the frequency range of 1300MHz and supports the application of 25G Base-T. From the connector, it will use the same dimension of the traditional RJ45 and compatible with female connector and related equipments. Cat.8.2 may use the other design which similar GG45 from Nexans or Tera from Simon and transmit with 2000MHz bandwidth, supporting the application of 40G Base-T. To achieve so high frequency transmission, it will be a must to reduce the Insertion loss, Next and Return loss will be a must and both of the connector designs will expect to have the compensation devices like one PCB board to make the performance very good.
4、The Testing Channel structure: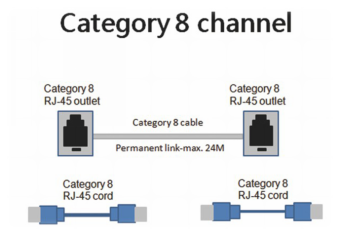 The Category 8 channel is a two-connector model, using foiled twisted-pair cable with a maximum permanent link length of 24 meters (79 feet).
5、No UTP(unshielded) cable solution used:
Although there is no restriction on the use of unshielded twisted-pair cable in the standard, performance has not been achieved with unshielded twisted pair. Category 8 is a shielded solution with no specifications for bundled or hybrid cables.
The other major performance factor that needed to be considered was alien crosstalk. At high frequencies especially, the alien crosstalk in unshielded twisted-pair (UTP) systems was found to be too high to support the 40GBase-T data transmission protocol. In order to achieve adequate alien-crosstalk performance, a shielded cabling system had to be specified. This could take the form of simply an overall shield over the four pairs of each cable (F/UTP), or individually shielded pairs with the option of an overall additional shield (F/FTP or S/FTP). For practical purposes, expect that the majority of Category 8 cables will have individually shielded pairs. This raised some issues related to cable balance requirements and also potentially with cable plenum fire-rating qualifications in the United States, as the majority of S/FTP cables are sold in the international market, where low-smoke zero halogen (LSZH or LS0H) are the governing safety requirements.
6、Cable Gauge:
Horizontal and backbone cable will consist of four balanced twisted pairs with conductors that can range from 22 AWG to 24 AWG. Cord cable consists of four balanced twisted pairs with conductors that range from 22 AWG to 26 AWG.
7、Testing:
The testing machine Fluke DSX-8000 will be launched by January of 2017. The machine will firstly be used for channel testing.
Tags: